There are lots of things to consider before you commit to buy Washer dryers products, whether it's checking that the price you've found it for is the cheapest or reading customer reviews…you'll want to make sure you follow our advice to help you get the best products for your money. In this LG F4J6TM1W 8KG 5KG Washer Dryer review we'll run through all of the important things you need to know before you place that order.
Latest Price: £629.99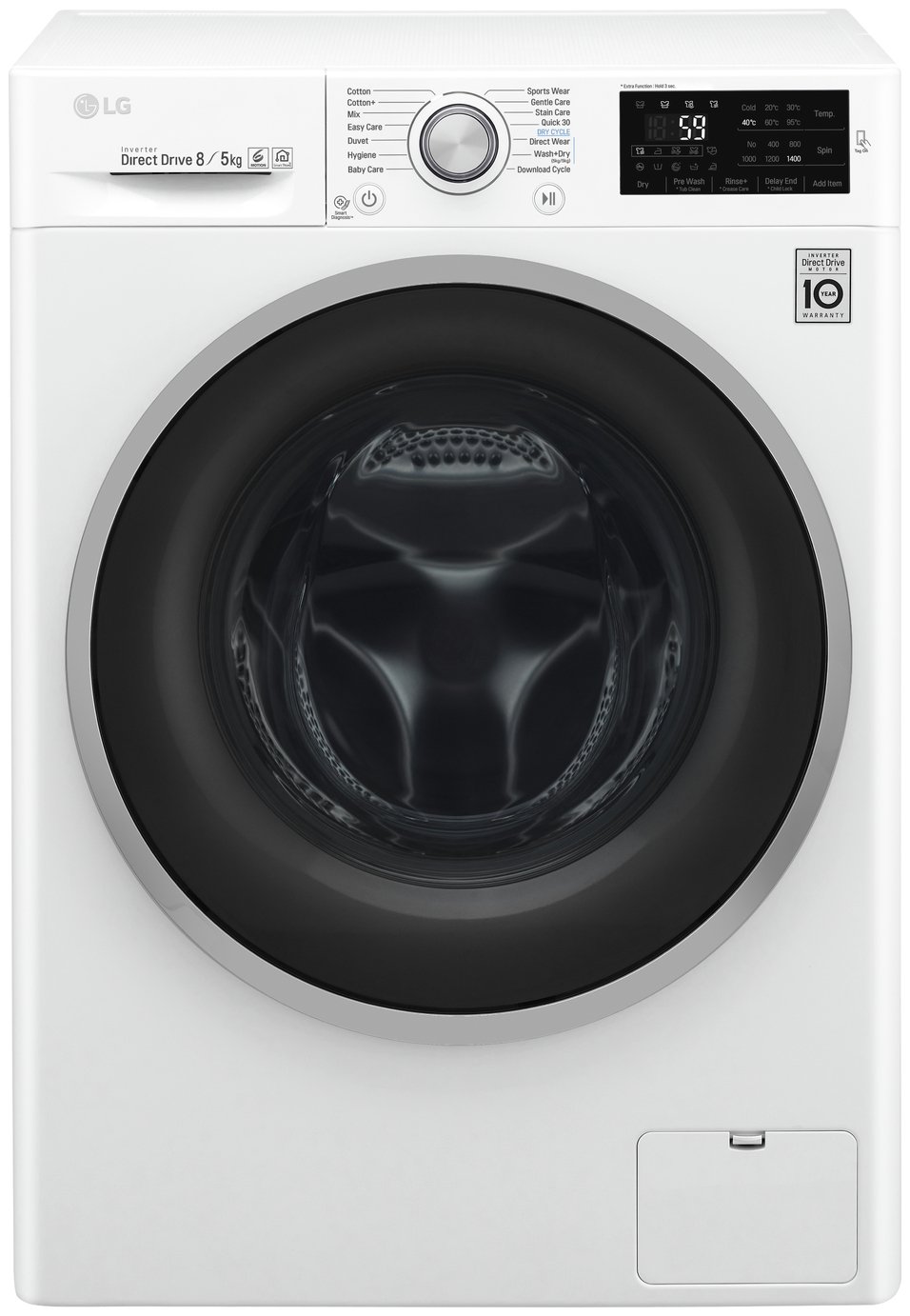 LG F4J6TM1W 8KG 5KG Washer Dryer reviews
See customer reviews at argos.co.uk:
Leading the way for a quieter, cleaner wash No belt and pulley: – Less Noise – Saves Energy – Larger Capacity – Increased Durability By eliminating its belt and pulley, LGs Inverter Direct Drive System increases the motors efficiency – thus cutting back on energy use and makes it less susceptible to breakdowns. The simplified system helps reduce noise levels as well. We guarantee it wont let you down. In fact, we trust it so much that all machines come with a 10 year warranty on the motor and all its parts as standard. Due to its design and unique to LG, 6 Motion Direct Drive is able to perform various drum motions or a combination of different motions depending on the wash programme selected. Combined with a controlled spin speed and the ability of the drum to rotate both left and right, the wash performance of the machine is greatly improved, giving you perfect results every time. Forgot to Include those essential items but the cycle has already started; Simply press Pause; and wait for the cycle to stop. The door will open within about 3 seconds; then add in your items, anything from small socks to a big jacket. LG Smart Diagnosis service will link up to your mobile and provide you with advice about the status of you machine. This could save you the time and effort of having to get an engineer out to deal with a problem you could have solved yourself. Overview: Condenser dryer. 8kg maximum washing capacity. 5kg maximum drying capacity. 14 washing programmes. 4 drying programmes. Size H85, W60, D56cm. Variable washing temperature. Variable spin speed. Child lock. Washing programmes: Baby. Cotton. Delicates. Economy. Half load. Hand wash. Intensive. Mixed load. Pre-wash option. 30 minute quick wash. Reduced creases. Sensitive. Silks. Independent spin. Sports. Synthetics. Wool. Controls: NFC enabled. Dial control. LED display. Time remaining indicator. Drying features: 4 heat settings. 30 minute quick dry. 4 dryness levels. Performance: Energy efficiency rating: A. Maximum spin speed 1400. Estimated annual energy consumption: 1088kWh/year. Estimated annual water consumption: 22000litres/year. Washing performance rating: A. Spinning performance rating: A. General features: Cold water fill. Pause facility.
Product codes: 8806084716712 7241697
Depending on the type of product you're buying, there are obviously some very different things to consider, but key features is normally relevant to the majority of products we review. Make sure you take the time to check out all of the key features of LG F4J6TM1W 8KG 5KG Washer Dryer, and compare them to other similar products in the Washer dryers category. It's also worth looking at other products from LG to see the typical features you can expect in products from this brand.
Once you've got an idea of the key features you'd typically find on Washer dryers products, write yourself a list of "must-haves" this will be really important when it comes to narrowing down your selection of potential purchases. Be sure that you stick to this list of key features that you deem essential, i.e don't be suckered into paying a premium for a product with unnecessary features and likewise don't be fooled into what appears to be a bargain but actually doesn't do the job you need it to do. LG F4J6TM1W 8KG 5KG Washer Dryer is obviously one of the top products that argos.co.uk sells, so as you'd imagine it will likely deliver most of your needs, depending on how serious you are about getting the very best Washer dryers products.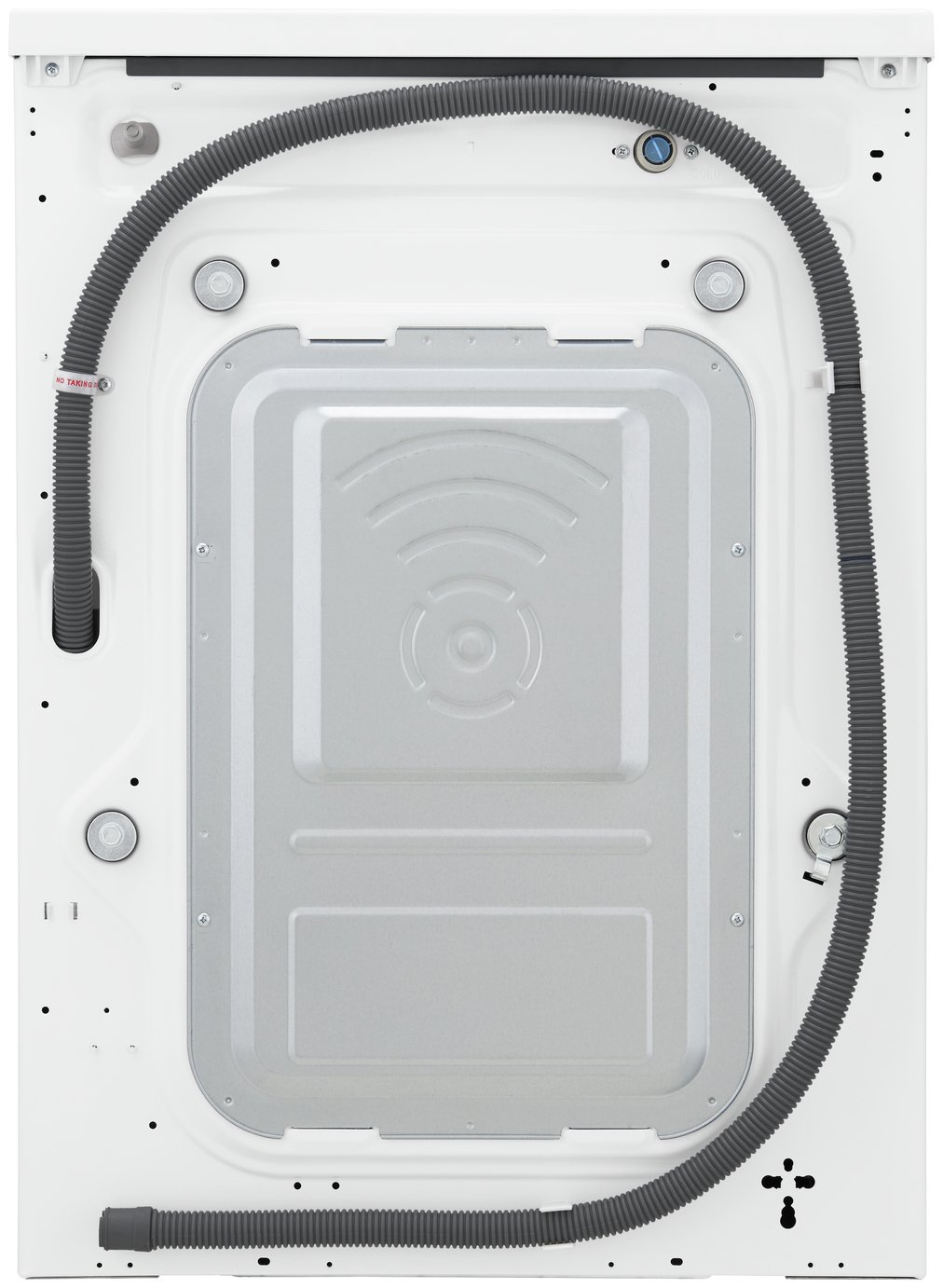 Price is clearly another priority for most online shoppers, so we'll now look into the price of LG F4J6TM1W 8KG 5KG Washer Dryer to determine what makes it such a good buy and why it has earned the price score of 8.6 out of 10. Seeing as there are 53 products available in the Washer dryers, there's plenty of choice out there. The price that we found LG F4J6TM1W 8KG 5KG Washer Dryer at is just £629.99 in our latest search, but the price of Washer dryers products can vary hugely. In fact the cheapest product we found in the Washer dryers category was just £329.99, with the most expensive product in the category coming in at £944.99.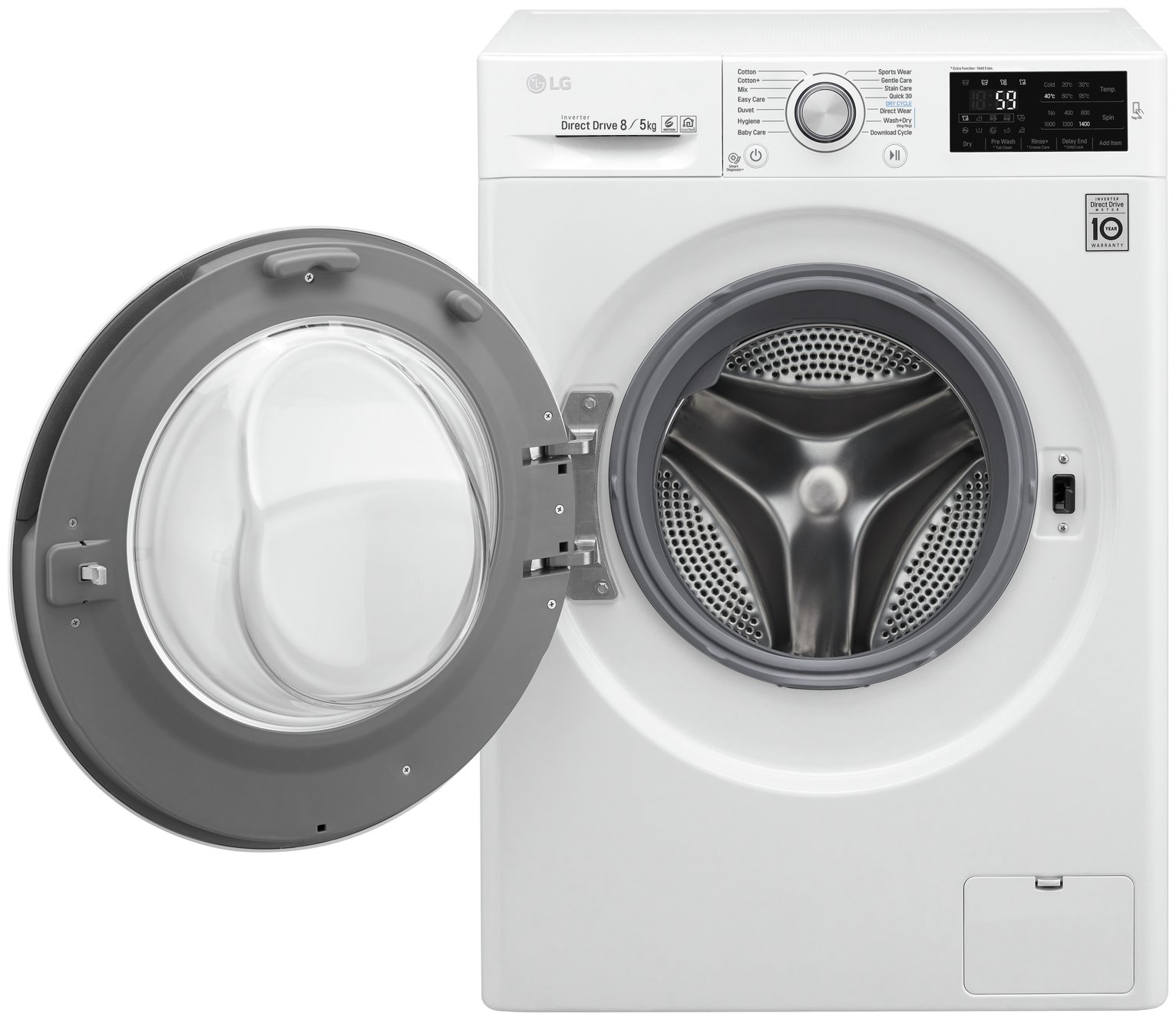 It's also worth studying the average price you should expect to pay. In our latest scan of Argos.co.uk we found that the average price of the products in the same category as LG F4J6TM1W 8KG 5KG Washer Dryer was £458.88. We then looked specifically at the average price of products from LG, which was £541.2 of the 54 products we found. Although similarly the price of products from LG can vary quite a bit too, with the cheapest being £49.99 and most expensive at £1999.99. Of the 53 products in the Washer dryers category, 2 of them were from LG.
LG F4J6TM1W 8KG 5KG Washer Dryer Reviews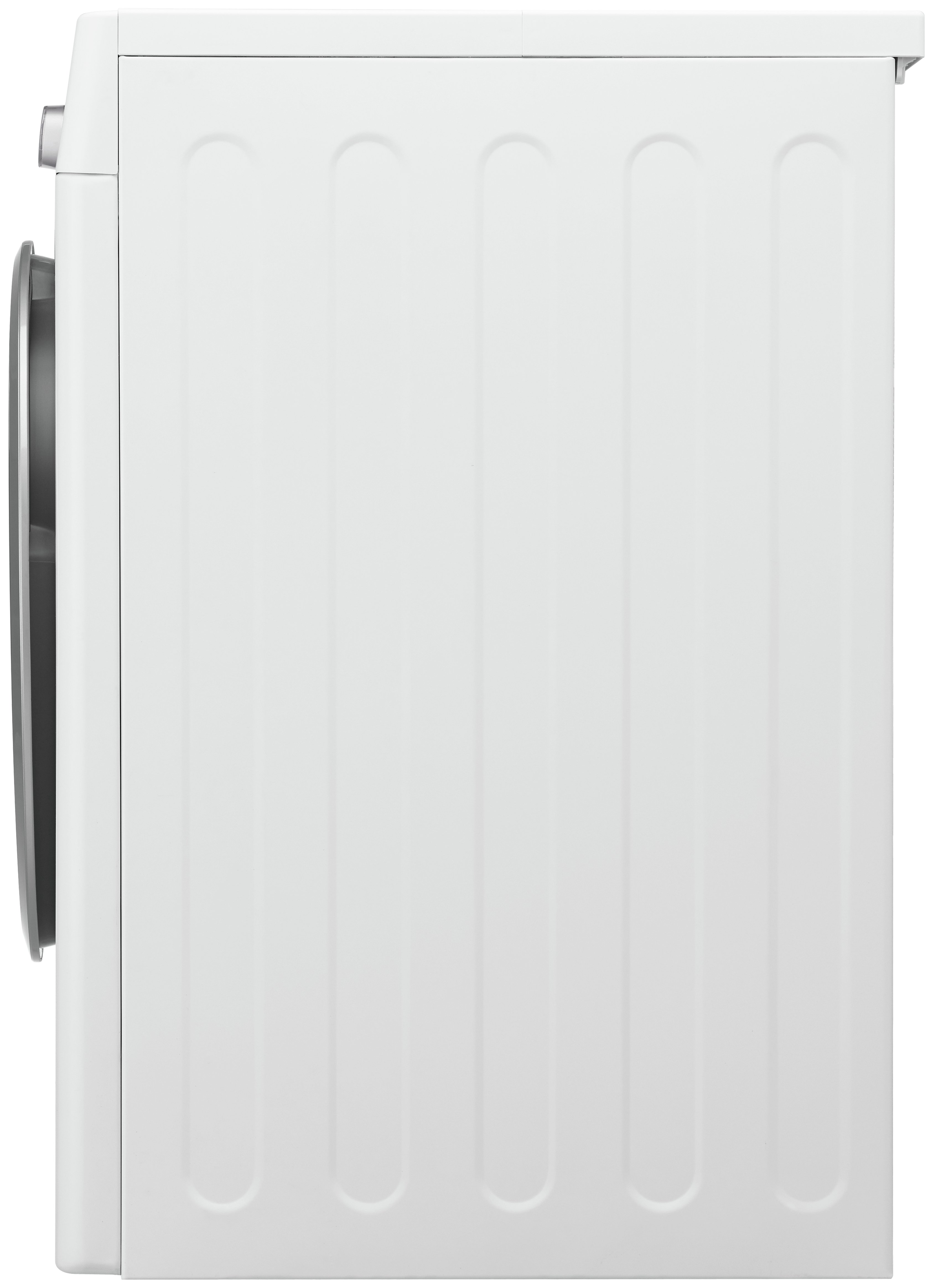 So we scored LG F4J6TM1W 8KG 5KG Washer Dryer 8.9 out of 10, but how did we reach that score? To answer that simply, our review scores are made up of a number of factors including the quality of the product, the price and what customers are saying about it in their reviews.
To get the quality score, we're looking at a number of factors, but typically we're studying the brand of the product, the warranty included and basing it on what customers have to say about the quality.
For the price score, it seems pretty obvious, but we're basing the score on the price of the product against competitor products or even alternatives from the same brand. For example if we find another LG product at a cheaper price than LG F4J6TM1W 8KG 5KG Washer Dryer, but we feel they're of similar quality, we'll score the cheaper product higher.
LG F4J6TM1W 8KG 5KG Washer Dryer review score
For the review score, we gave LG F4J6TM1W 8KG 5KG Washer Dryer 8.7 out of 10. To reach that score we use information on what customers are saying about the same product from a number of retailers, to create an aggregate score.
The overall score is then a combination of all the other scores.
If you think LG F4J6TM1W 8KG 5KG Washer Dryer could be the right Washer dryers product for you, stop by Argos now by clicking "read reviews" to see what customers are saying about it.